Prep 30 mins
Cook 25 mins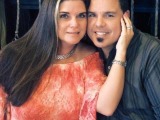 This is our favorite chocolate cake. It is rich and moist. Note: If you don't have the buttermilk on hand, put about 1 teaspoon of vinegar into 1/2 cup milk and let it sit for 15-20 minutes. ***Note: if you don't have the Butter Flavor Crisco, just increase the 1/2 cup butter to 1 cup of butter and omit the Crisco. I've made it both ways and it is great either way.
Directions
Cake: Stir first four ingredients together.
Put butter, Crisco and water in saucepan and bring to a rapid boil.
Pour over flour mixture.
Add eggs and buttermilk that have been mixed with baking soda.
Add vanilla and beat until well mixed.
Bake in a greased cake pan (10 X 15 or 9 X 13).
Bake at 350 for approximately 25 minutes.
While cake is still hot, frost it.
Frosting: Bring butter, cocoa and milk to a boil.
Add to powdered sugar.
Mix well.
Add vanilla and pecans.
Mix well.
Spread on hot cake.
Most Helpful
I have been making this cake for over 40 years. I make at least one cake a week and try to vary the types I make so family and friends won't get tired of the same thing. When we get chocolate hungry, this cake always comes to mind first. There is never any of this left!! I use a cookie sheet pan to bake it in. I don't add the cinnamon, simply because I don't like the after taste it leaves in the cake. I always use the full one cup of butter instead of 1/2 crisco, and sometimes add instant coffee granuals or black coffee for that old fashion taste of home. Thanks for posting this all time great standard!!

This is the closest I have come to duplicating a cake my mother used to make. The cake is GREAT! I have made it several times now and I have tweaked it a bit for my family's taste. I add 7 Tablespoons of cocoa to the cake. My family likes frosting, so I increase the frosting by half and I also add additional cocoa to the frosting.
Hit the spot! I didn't have any vanilla, and i added about 1/4tsp of nutmeg for some additional flavor. Instead of the icing, I just used an icing sugar glaze. Thanks for this recipe!