Chocolate Sauce (Throw Away Your Hershey's!)
eknecht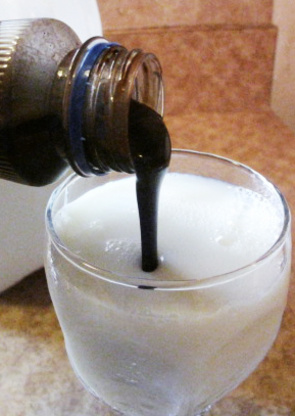 This syrup is concentrated stuff, use 1-2 tsp in 8 oz of milk. It's ultra-chocolatey, with a deep cocoa flavor, and not too sweet. This syrup is thick and smooth with a shine ...a chocolate syrup for adults. Use Dutch process cocoa powder if you want the finished product to have the beautifully deep color and flavor to which all good chocolate syrups should aspire.

Steve, this is great! I halved the recipe and made it just 5 minutes back. Its 1:45am:) I was having this 'thing' for having something sweet right now and since I have a little friend(5 yr kid) coming home tomorrow morning (who loves chocolate), I thought it would be great to gift some to her. Hence, went n made it! Glad I did! Its a good chocolate syrup, not too sweet like you have mentioned. That makes it a winner in my books:)! Thanks for the recipe! UPDATE: I made this sauce and after it had cooled, I stored it in my refrigerator for 4 hours. Then, for dessert, I poured a tbsp. of this heavenly sauce over 1 Zebra cake and ate it. It was AWESOME!!!! Makes a whole new dessert for my family and me. Thank you for the delicious sauce recipe, all over again:)
In heavy-bottomed 2 quart pot, combine sugar, cocoa powder, and salt. Whisk to combine. Gradually stir in the water. Stir until well combined.
Set over medium heat; stirring constantly until mixture comes to a boil Boil three minutes, stirring frequently with whisk and reducing heat if syrup threatens to boil over. Remove from heat; pour into heatproof 4 cup measure or pitcher. Cool briefly.
Cool on counter (uncovered) until room temperature, strain through fine strainer into container of 2-1/2 cup capacity. Stir in vanilla.
Store, covered, in refrigerator.