This very simple recipe comes from the 2005 cookbook, Get Saucy.
1 cup heavy cream
8 ounces semisweet chocolate, coarsely chopped (or bittersweet)
Directions
In a medium-size heavy saucepan, heat cream over medium heat until small bubbles appear around the rim, about 4 minutes.
Turn off the heat & add the chocolate, letting it sit without stirring for 5 minutes.
Using a whisk, stir sauce until chocolate is melted & thoroughly mixed into the cream.
Let it cool a little before using.
Will keep, tightly covered, in the refrigerator for up to 2 weeks.
It will thicken & harden as it cools, so reheat before using.
Most Helpful
Made a half batch as directed, and dipped with fresh strawberries and bananas for an afternoon treat. Yum!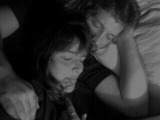 Mmmm delicious! This is so simple yet so rich and yummy. I actually successfully made my in the microwave and served over brownie ice cream for a sinful dessert. Thanks! Made for 1-2-3 Hits.

My family enjoyed this over ice cream tonight. I made exactly as written.