FlowrBx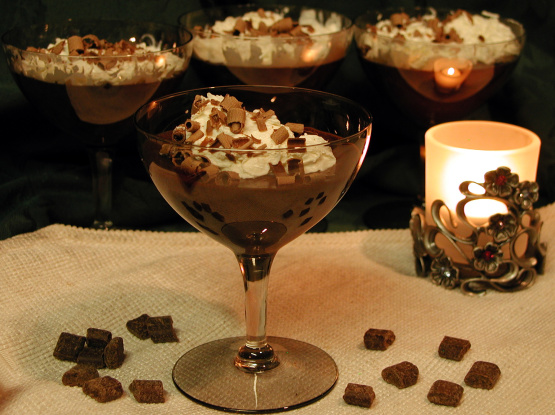 From Southern Living, this lavish dessert makes a beautiful presentation topped with whipped cream and chocolate curls and served in stemmed glasses. Similar to pudding, this dessert is richer with a delighful rum-laced flavor. I had forgotten about this recipe until I was going through my magazines, but it's on the top of my list to make again soon.

Wow! I made this with 2 oz of 80% cocoa and 4 oz dark chocolate which may be a tad bitter with a slightly sweet aftertaste for some. My bro and his girlfried really loved it! It IS rich. I'd cut the rum to 1.5 tbs and almond extract to 1/8 but that's personal preference. Mother said she would use it as a frosting on a sponge cake. I'd use it as a filling. ;-)
Melt the chocolate in a double boiler over gently boiling water.
Beat the egg yolks until thick and lemon colored; gradually stir in about one quarter of the melted chocolate.
Add the yolks and chocolate to the remaining chocolate in the double boiler, stirring constantly.
Remove from heat and add the rum, almond extract and nutmeg.
Beat the egg white until stiff peaks form.
Gently fold into the chocolate mixture.
Spoon into stemmed glasses or demitasse cups and chill.
When ready to serve, top with whipped cream and garnish with chocolate curls.