eagibz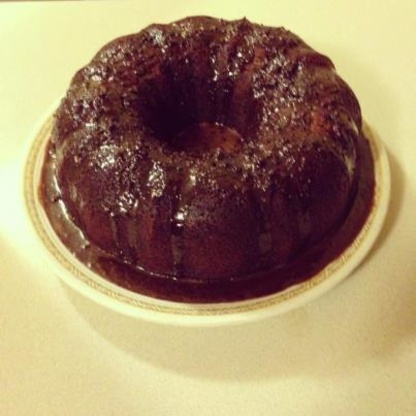 Luscious Dark Chocolate Rum Cake. The cake can be served plain, or it is delicious with coffee flavored whipped cream.

In answer to Barbara K's question I think she is not reading the recipe correctly. In step 8 it says to disolve the instant coffee in a 2 cup glass mesure (such as Pyrex liquid measure jug). Now Barbara notice that the recipe calls for only 1/2 cup boiling water. Step 9 is telling you to add cold water to the same glass measure to bring the mark up to the 1½ cup mark. Simple? The reason for doing this is that step 11 tells you to cool the mixture. It will cool much faster by adding cold water, than it would if you used 1½ cups of boiling water to start with; and you need at least some boiling water to disolve the coffee. The reason for cooling the mixture is so your eggs don't scramble when added. Hope this makes perfect sense to you now. BTW thanks for the nice review :)
Adjust rack one-third up from the bottom of the oven and preheat to 325°F.
Choose a 9 inch Bundt pan or any other turban tube pan (10 cup capacity).
Butter the pan well, then dust the whole inside of the pan with fine, dry plain bread crumbs.
Shake out any excess crumbs and set aside.
Sift together the flour, baking soda and salt, set aside.
Melt chocolate in a small double boiler or microwave on low setting.
Set aside to cool slightly.
In a 2 cup glass measuring jug dissolve the coffee in the boiling water.
Add cold water to the 1 1/2 cup line.
Add 1/2 cup of dark rum. Set aside to cool completely.
In a large bowl of an electric mixer, cream the butter, add the vanilla and sugar.
Add the eggs one at a time, beating until smooth.
Add chocolate and beat to mix well.
Adjust the machine to low speed, add the dry ingredients and the coffee/rum liquid alternately and gradually to avoid splashing.
Scrape the bowl with a spatula, and beat until smooth.
Pour into pan, smooth the top to make level.
Bake for 1 hour 10 minutes.
Test for doneness with a cake tester or a long thin barbecue stick and bake only until the tester comes out clean and dry.
Cool in the pan for 15 minutes, then cover with a rack and invert.
Remove the pan.
Using a pastry brush or any 1 inch bristle paint brush, paint the cake with the extra 1/3 cup of dark rum, it will absorb completely.
Leave the cake on the rack to cool.
The cake can be served plain, or it is delicious with coffee flavored whipped cream.