Chocolate Rum Balls (No Cook)
Annacia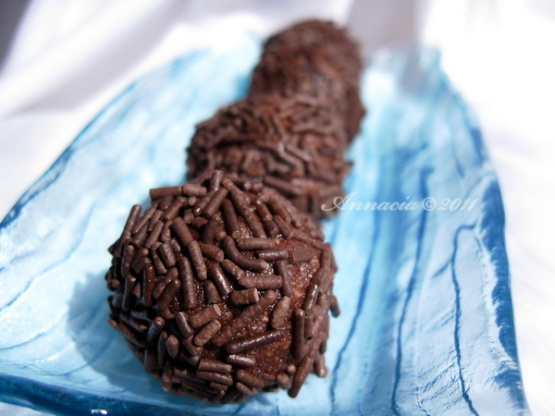 A coworker brought these to a potluck and they were inhaled. I misplaced the recipe for a while and found it again today. Before I lose it again I'm going to post it. I haven't made them myself yet so the number of balls this makes is an estimate. Unlike many rum ball recipes, this recipe contains no corn syrup. **Chill time not included in time to prepare**

Be sure to offer these to everyone because if not you'll you'll find them gone with nobody else in the house, really. Used a Splenda/cornstarch mix for the powdered sugar and that might not have worked perfectly well because after around 15 mins at room temp they become quite soft again. Mind you, they don't melt but if a ball was picked up anywhere near firmly it would squish. I must say though that this stage they almost melt in your mouth. If that would happen with real powdered sugar I don't know but it won't stop me from making them again with my Splenda mix! YUM :D
1⁄2 cup butter
1⁄2 cup sifted icing sugar
3⁄4 cup semi-sweet chocolate chips

2

eggs, slightly beaten

1

pinch salt

4

tablespoons dark rum
1 3⁄4 cups vanilla wafer crumbs (about 40 small wafers)
Combine butter, icing sugar and chocolate chips in a microwavable bowl.
Microwave on low to melt - do not cook.
Stir in beaten eggs and salt until thick and smooth.
Add rum and crumbs then mix well.
Refrigerate until mixture is stiff enough to form balls (about 3 hours).
Roll balls in chocolate shots, ground nuts or coconut.
Chill.