Chocolate Ripple Cookie Squares
Pixie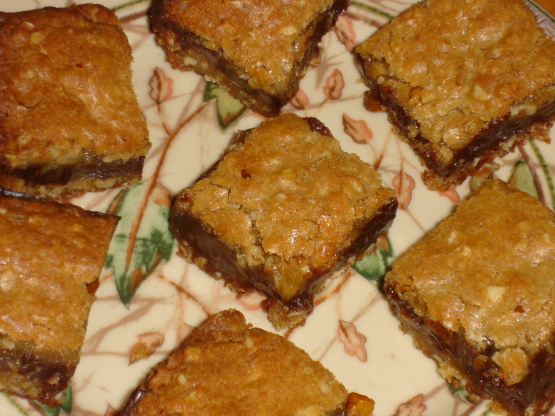 These squares are just like a chocolate filled cookie but easier to make. For a special presentation, drizzle melted white and dark chocolate on top of squares. Use your favourite type of nuts or coconut in place of the pecans. Great for freezing

Top Review by Pixie
Excellent square. Delicious fudgy center with top and bottom like a soft oatmeal cookie. I used walnuts instead of pecans. Yummy. The dough was a bit on the sticky side, so I sprayed my hands with cooking spray and pressed it into the pan instead of attempting to spread. As a shortcut, I put the chocolate chips and condensed milk in a glass bowl and microwaved them for 1 minute on high and stirred until smooth - faster and easier than doing it stovetop. The bake time was exactly 30 minutes and they came out with a lovely golden crust. Perfect.
Preheat oven to 350 degrees.
Butter a 13" x 9" cake pan.
Heat together chocolate chips, sweetened condensed milk and 2 tbsp. butter over low heat, stirring constantly until melted and smooth.
Set aside.
Mix together brown sugar, eggs, melted butter and vanilla until smooth.
Stir in remaining ingredients.
Mix well.
Spread half in prepared pan.
Spread chocolate mixtures evenly over base.
Dot spoonfuls of remaining batter on top.
Spread lightly with knife to cover filling.
Bake for 30 to 35 minutes or until set.
Cool completely, then cut into square.