Rita1652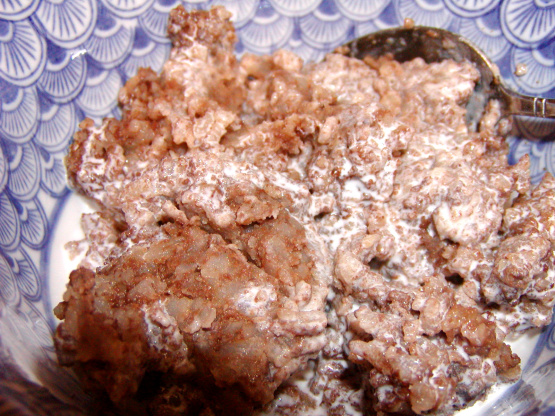 A deliciously rich chocolate rice pudding made in the crockpot. Adapted from a recipe in Betty Crocker's "Slow Cooker Cookbook". She advises making it with cooked rather than uncooked rice, because apparently uncooked rice can come out sticky rather than creamy when cooked slowly in the crockpot.
Lightly grease or spray with cooking spray the inside of a 31/2- to 6-quart crockpot.
Combine all ingredients in the crockpot, cover the crockpot and cook on low for 21/2 to 3 hours, or until all the liquid has been absorbed. Stir before serving.
Serve either warm or chilled. To chill, allow the rice pudding to cool for about 2 hours, then spoon it into a bowl, cover and refrigerate until ready to serve. Serve with cream and a sprinkling of slivered almonds or nuts of your choice.