vrvrvr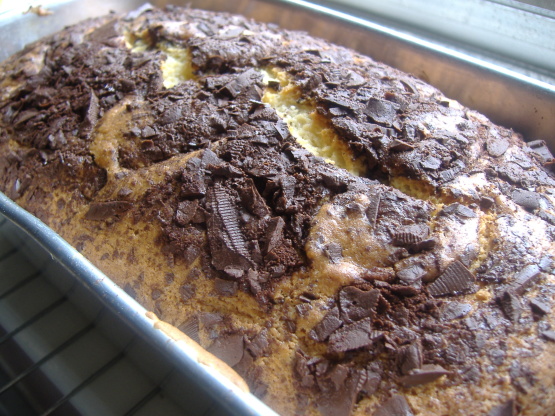 From the Country Inn, Ft. Bragg, CA circa 1985. I've made this yummy little cake for years...it's a comforting family favorite.

Excellent Coffee Cake. I used to make this a lot when teaching and would take it to school for treats. It never lasted long and had many requests for the recipe. Great flavor and moist from the sour cream.
Preheat oven to 350.
Butter and lightly flour a 9x5" loaf pan.
Grate or chop chocolate until you have slivers and small pieces. Set aside.
In large bowl with mixer at medium speed, beat butter and sugar until light and fluffy.
Reduce speed to low; add flour, baking powder, baking soda, vanilla, sour cream and eggs.
Beat well, scraping down bowl as necessary.
Spread half of batter evenly into pan, sprinkle with half grated chocolate and 1/4 t. cinnamon.
Cover with remaining batter, chocolate and cinnamon.
Draw knife through batter a few times to swirl chocolate.
Bake 1 hour (or less, be careful) until toothpick comes out clean.
Cool in pan on wire rack 10 minutes.