Chocolate Raspberry Torte
Lucky13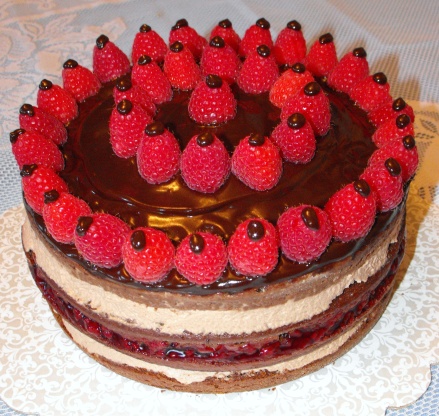 If you like chocolate and raspberries this is 4 layers of pure heaven. It may seem complicated & takes a while to make but is worth every minute. Of all the things I bake this on seems to be the most requested & has the biggest wow factor. It looks and tastes beautiful. I hope you like it too.

Top Review by Nikoma
This torte has a stunning presentation, but the taste just wasn't over the top for me. I added some powdered sugar to the whipped cream because it seemed like it was shaping up to be a bit bland. My pie filling wasn't very sweet either. In the end the raspberry flavor didn't come through much. If I had it to do over I would layer the pie filling AND cream in each layer. For the ganache I also added 1/2 tsp of raspberry extract which was very good!
Heat oven to 350°F
Grease and flour two nine inch round cake pans.
In a large bowl beat together sugar, butter, vanilla, and eggs. Beat until well blended. In another bowl mix together cocoa, flour, baking powder and baking soda. Add milk and flour mixture alternately with butter and sugar mixture . Beat together until combined. Pour into cake pans and bake for 30 to 35 minutes. When finished baking let the cakes cool for 10 minutes in the pan. After they have cooled for 10 minutes remove from pans and sprinkle with 1 tablespoon creme de cacao. Let cake cool completely.
While cake is cooling prepare whipped cream filling. Add all Filling ingredients (except pie filling!) Whip until stiff.
Cover bowl and refrigerate.
After cakes have fully cooled. Carefully split each cake into 2 horizontal layers. Place one layer on your serving plate. (I find it easier to lay the split side down to help avoid crumbs when spreading the whipped cream mixture.) Add 1/2 the whipped cream mixture and spread until the top of the layer is covered. (Do not cover sides with whipped cream mixture) Add the next layer of cake. Split side up. (helps hold raspberry) Add about 1/2 of the can of raspberry pie filling. Spread around the top side of the layer only. (I also find it helpful to go close to the edge but not all the way , so that when the next layer goes on the raspberries aren't running down the side of the cake) Add the next layer of cake split side down. Add the remaining 1/2 of whipped cream mixture. Spread mixture the same as you did the first. Add last layer of cake split side down. Add ganache to top layer.
Ganache.
In a sauce pan combine chocolate (broken into pieces) Whipping cream, and butter. Cook over low heat stirring constantly, stir until mixture is melted and smooth. Stir in creme de cacao. Let mixture cool slightly. Put mixture on the top layer.(I put it all in the center and then slowly spread it to the edges. After spreading chocolate but before the mixture cools I decoratively place the fresh raspberries on top. Refrigerate until ready to serve.