Chocolate Raspberry Crumb Bars
Marlene.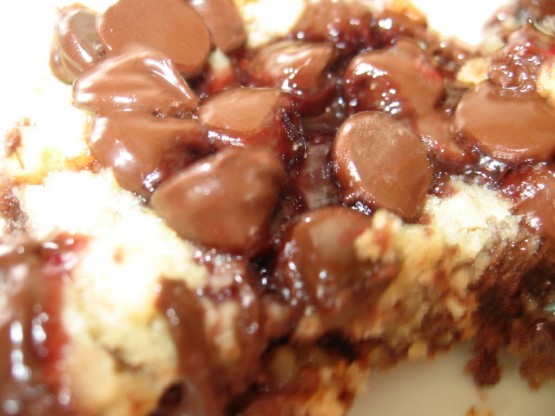 A nice little bar cookie.

I actually won the "Bar Cookie" division at our local fair with these. The only thing I do differently is to increase the dough mixture by 1/2. That way I can make the bottom crust a little thicker, and have more crumbles for the top--one of my families' all time favorite desserts! Thank you for posting!
Preheat oven to 350 degrees F.
Grease a 13 x 9-inch baking pan.
In a large bowl, beat butter until creamy.
Beat in flour, sugar, and salt until well mixed.
With floured fingers, press 1 1/4 cup crumb mixture onto bottom of prepared pan; reserving remaining crumb mixture.
Bake for 10 to 12 minutes or until edges are golden brown.
Combine 1 cup semi-sweet chocolate morsels and sweetened condensed milk in a small heavy duty saucepan.
Melt over low heat until smooth.
Spread over hot crust.
Stir nuts into reserved crumb mixture; sprinkle evenly over chocolate filling.
Drop teaspoonfuls of raspberry jam over crumb mixture.
Sprinkle with remaining semi-sweet chocolate morsels.
Continue baking for 25 to 30 minutes or until center is set.
Cool completely on wire rack.