Chocolate Raisin Biscuits- Gluten Free or Not
flower7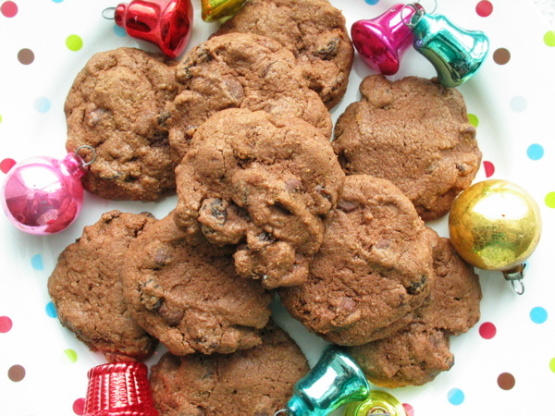 These are great biscuits. They are very rich and my whole family love them. I usually make a double batch so that I can keep some for later. The recipe was in the "Super Food Ideas" magazine in 2004. You can make them lactose free by using dark chocolate and a lactose free margarine, such as Nuttelex. Feedback from review by Polly_Waffle_kid- these biscuits have been made on regular wheat flour and turned out perfectly. (My thanks to you PWK:) )

These are very good! I used a combo of Ghirardelli semi-sweet and bittersweet baking chocolates for the melted part, and straight semi-sweet (chips) for the rest. I'm experimenting with gluten-free recipes for a friend so I used Bob's Red Mill GF all-purpose baking flour with 3/8 tsp xanthan gum added (as recommended by the flour pkg). I did not chop the raisins. My first batch baked for 14.5 min and they were a little too done for my taste so the rest went in for 13 min, which I liked better. I got 27 cookies. Will try these again soon with plain wheat flour for myself. Thanks for the recipe!
Preheat the oven to 170 degrees Centigrade. Line biscuit trays with baking paper.
Melt half of the chocolate and set aside to cool.
Beat the butter and sugar until pale and creamy. Add the egg and beat well. Stir in the melted chocolate.
Sift in the flour and baking powder. Stir gently to combine. Fold into the mix the remaining chopped chocolate and the shopped raisins.
Refrigerate for 30 minutes or until firm.
Roll tablespoonfuls of the mixture into balls and then place onto the trays. Flatten with the back of a metal spoon.
Bake 15-20 minutes or until golden.
Stand 5 minutes before transferring to a wire rack to cool.