Chocolate Pumpkin Cake With Cinnamon Chocolate Glaze
flower7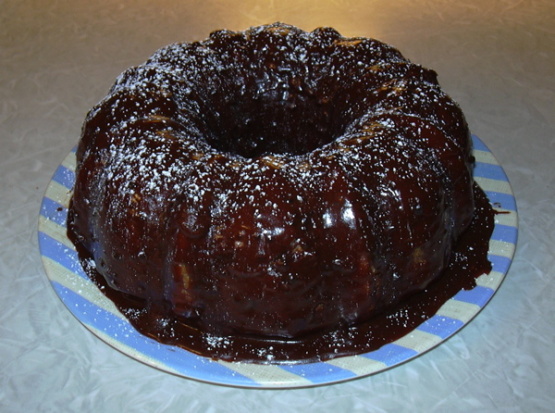 I made this cake for a co-workers birthday and it was a huge success! Many recipe requests. :) Cooking time includes cooling time.

Oh, NOM. I made this for a potluck at work, and it got rave reviews. I did make a couple of changes - I used a chocolate cake mix instead of yellow, and I left out the nuts (I work in a pretty large department and didn't know who might have allergy issues). I used Hershey's Special Dark cocoa for the glaze. The cake turned out decadent and rich and oh, so good! Thanks for posting!
Preheat oven to 350 degrees F.
Grease and flour a 12-cup bundt pan.
In an electric mixer, combine cake mix, spices, baking soda, pumpkin, water and eggs.
Mix on low for 1 minute.
Scrape down sides of bowl.
Increase speed to medium and mix for 2 more minutes or until thoroughly combined and batter is smooth.
Fold in chocolate chips and nuts.
Spoon batter into prepared bundt pan and smooth out top with a spatula.
Bake for 40 minutes or until top springs back when lightly pressed.
Cool in pan on a wire rack for 20 minutes then turn out onto rack to cool for 20 minutes more.
To prepare glaze: combine sugar, butter and milk in a medium saucepan and stir until butter melts and mixture comes to a boil.
Boil for 1 minute while stirring constantly.
Remove from heat.
Mix in cinnamon chips, cocoa powder and vanilla and stir until smooth.
Let sit a few minutes to thicken.
Pour over cooled cake.
Dust with powdered sugar if desired.