Chocolate Puffed Wheat Squares
Kansas A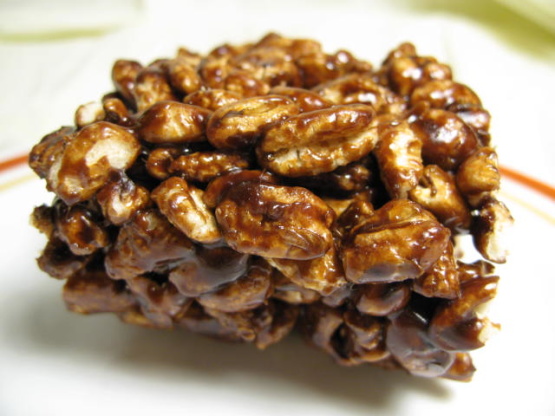 YAY!!! I love Puffed Wheat Squares. This is a recipe that I came up with that absolutely works for me. I hope you love it too! Hint: Be careful to not let mixture boil longer than 5 minutes to ensure a chewy square.

This is similar to a recipe my mother-in-law has been making for her family for many years, but she uses slightly different proportions that may help avoid the hard consistency mentioned by some of the other reviewers. She uses: 1/2 c butter,
1/2 cup corn syrup,
1 c. brown sugar,
3 TBS cocoa,
2 tsp vanilla,
9 c. puffed wheat.
Combine corn syrup, margarine, brown sugar, and cocoa in heavy sauce pan.
Boil for 5 minutes; remove from heat.
Add puffed wheat; stir.
Using buttered pans; pour mixture into greased 13 by 9 inch cake pan. Pat into pan.
Let cool; cut into squares.