Chocolate Puffed Wheat Squares
Kansas A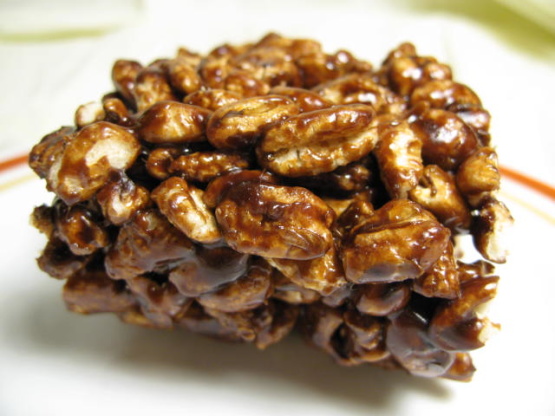 YAY!!! I love Puffed Wheat Squares. This is a recipe that I came up with that absolutely works for me. I hope you love it too! Hint: Be careful to not let mixture boil longer than 5 minutes to ensure a chewy square.

I have been searching for a chewy recipe for these. I have tried many, many recipes looking for the perfect one. THIS IS IT! I made 2 batches today as we are moving in a couple of days and I needed something as a coffee treat for all my helpers. In my first batch I followed it exactly, but I found it too chocolatey. My second batch I only added 1/4 c chocolate and found that better. I am sure this is a matter of taste. I also added 2 more cups of puffed wheat as I just needed to use it up, still turned out perfect. Thanks for this great recipe, my kids will be thrilled when they get home today.
Combine corn syrup, margarine, brown sugar, and cocoa in heavy sauce pan.
Boil for 5 minutes; remove from heat.
Add puffed wheat; stir.
Using buttered pans; pour mixture into greased 13 by 9 inch cake pan. Pat into pan.
Let cool; cut into squares.