Chocolate Pudding, Low Fat
Annacia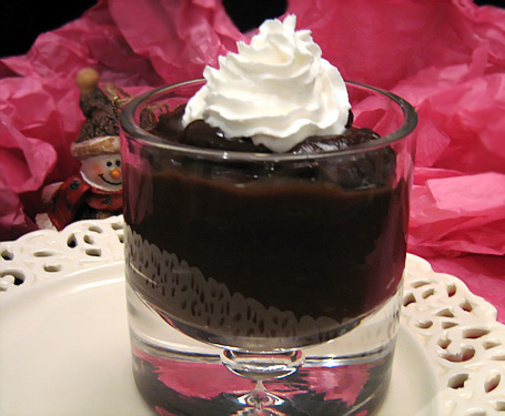 Wonderful way to enjoy chocolate pudding without all the fat. Very satisfying considering there isn't a drop of cream or a pat of butter in it. Cooling time is cook time.

I found that the times and nutritional information were way off with this recipe. Based on the listed time, I assumed it would be set and ready to serve, but it wasn't-so I had to use it as a sauce. Also-the chocolate that I used listed 15g fat/ounce-the recipe calls for 2 oz-which works out to a fairly high fat content over 4 servings, plus the fat of the cocoa powder. It did have a rich taste, but may need some revisions in prep, and don't assume this is as low in fat as the NI suggests.
In a saucepan, stir together sugar, cocoa, and cornstarch; while stirring, gradually add milk and cook until thickened and bubbly, about 5 minutes.
Reduce heat to medium low and add bitterseet chocolate; cook, stirring, another 3 minutes; remove from heat and cool 5 minutes; add vanilla; pour into dessert dishes and serve or lay plastic on pudding surface and refrigerate.