Chocolate Pudding for One
Boomette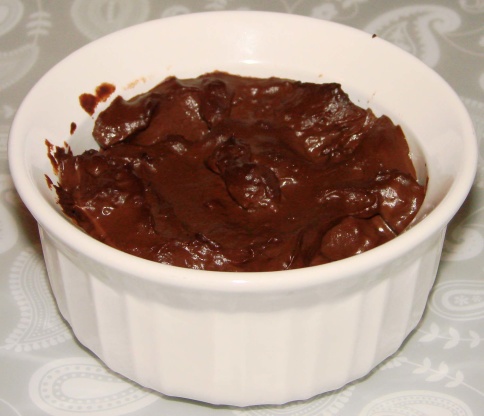 Looking for that chocolate pudding fix, and don't want to make alot ? Then here's the recipe to try. I found the basic recipe in the TOH 's 2001 Annual recipes, it was sent in to them by Anne Boesiger of Meridian, Idaho. Since I like a thicker and more intense chocolate flavor, the amounts of cornstarch and chocolate were changed.The database wouldn't let me add just a pinch of salt, so I had to put 1/8 teaspoon. Also, the way that the ingredients were added was changed too. Chill time is included in cook time. The longer you let this chill, the more intense the chocolate flavor will be. Submitted to " ZAAR " on October 21st, 2009

Yum! This was easy and delicious. I followed the directions but only took about 30 seconds for it to build after I added the cornstarch.
1⁄2 cup milk
1⁄3 cup semi-sweet chocolate chips
1⁄8 teaspoon salt

2

teaspoons cornstarch
whipped topping (optional)
In a small microwavable glass bowl add milk, salt, and chocolate chips.
Microwave for 1 1/2 minutes, stir until chips are melted.
Add cornstarch, stirring until no lumps remain.
Microwave for another 1 1/2 minutes or until mixture begins to boil.
Stir again and let cool to room temperature, and pour into a small bowl or dessert dish.
Refrigerate until firm, about 30 minutes.