Chocolate Pretzel Ring Candies
ltt1307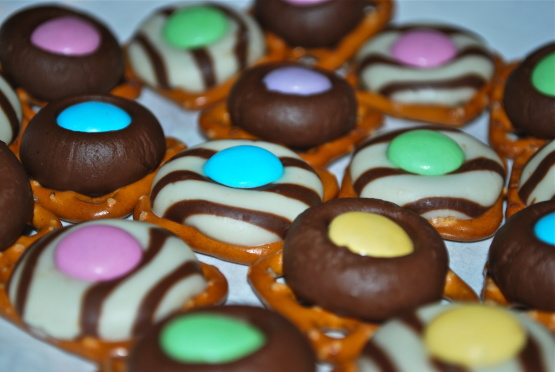 Such an easy & quick candy, nice for any holiday thanks to the variety of holiday colors m&m's come in. This comes from an old magazine - was it Taste of Home or Quick Cooking? I can't remember, but they sure are tasty & cute! While the recipe calls for small pretzel rings, you'll get equally great results with mini twists and even Rold Gold butter checker pretzels if available in your neck of the woods.

We make these every year as part of our Christmas cookie spread. We started making them because it was something the kids could do and we are still making them today just because they have become tradition. Simple and easy, but very tasty.
50

small pretzels, rings

50

Hershey chocolate kisses, unwrapped

50

M&M's plain chocolate candy
Preheat oven to 275* F, line a baking tray with waxed paper and spray with cooking spray.
Lay out pretzels in a single layer, top each with a Hershey kiss in the center.
Bake 2-3 minutes, just till chocolate is softened.
Remove from oven and press an m&m into each kiss, flattening it a bit and creating a"bed" of chocolate.
Firm up in the fridge for 10 minutes or so, but store at room temperature.