Genianoe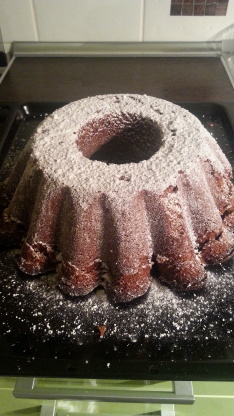 Got this one from my sister Wendy. She made it for a family dinner and everyone went wild over it! Had to bring home the recipe!

This was a great cake. I had never made a chocolate pound cake before. It was easy to make.
Heat oven to 325*; grease and flour bundt or tube pan.
Sift flour, cocoa, salt and baking powder together.
Beat shortening and butter together.
Slowly add sugar and beat until light and fluffy.
Add eggs, one at a time, beating well after each addition.
Add flour mix and milk alternately to creamed mixture, beginning and ending with flour.
Add vanilla, mix well.
Pour into pan, place on center rack and bake 1-1/2 to 2 hours.
Check with wooden pick after 1-1/2 hours to see if it needs more time.