Boo L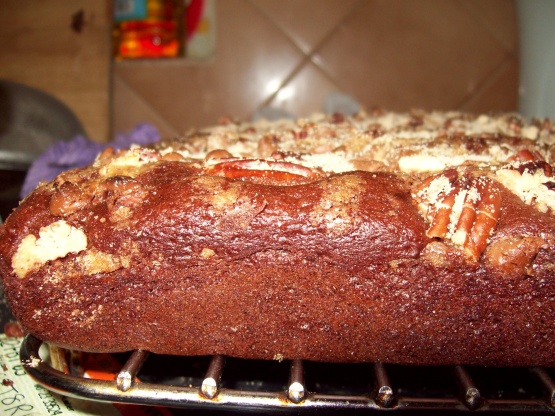 Recipe from "Chocolate from the Cake Mix Doctor...) by: Anne Byrn. The first time I made this recipe, I only had walnuts and dark brown sugar on hand, but the recipe still turned out great!

I had some vanilla yogurt that I wanted to use up and found this recipe. I had all the ingredients and made no changes. This cake came out so tender and light. Since it's just my husband and me, I hope I will be successful in freezing part of this cake for another time. Thank you for posting this cake recipe and I'll be making it soon to take for a family function. I know they'll all love it!
CAKE

nonstick cooking spray

1

package plain devil's food cake mix

1

cup low-fat vanilla yogurt or 1 cup nonfat vanilla yogurt
1⁄2 cup water
1⁄2 cup vegetable oil

3

eggs

TOPPING

1⁄3 cup chopped pecans
1⁄3 cup packed light brown sugar
1⁄3 cup miniature semisweet chocolate chips
Preheat oven to 350 degrees.
Spray a 13x9-inch baking pan with nonstick spray.
Place cake mix, yogurt, water, oil, and eggs in a mixing bowl.
Using an electric mixer, blend on low speed for 1 minute.
Scrape the sides of the bowl, and mix on medium speed for 2 minutes more.
Pour the batter into the baking pan and spread evenly with a spatula.
Stir together the pecans, brown sugar, and chocolate chips.
Sprinkle this mixture over the top of the cake, and bake for 30-35 minutes, or until it springs back when lightly pressed with your finger.
Remove the cake from the oven and cool for 20 minutes on a wire rack.
Serve slightly warm.