Chocolate Popcorn Biscotti
Prose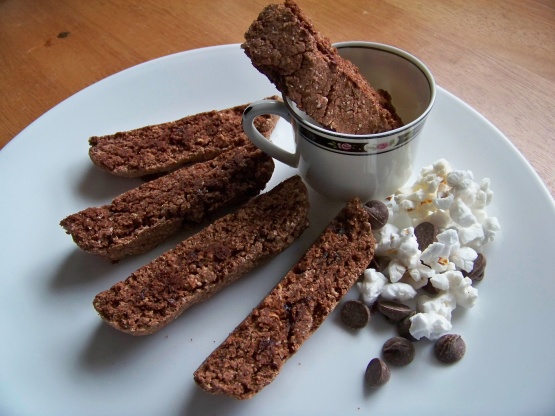 I haven't tried this, but it looks so interesting, I'm posting to try later. From the Popcorn site, made for kids. A Fun Fact: Popped corn has only 31 calories per cup, and oil popped corn has only 55 calories per cup!

Top Review by Prose
These were fun to try and a great way to add some fiber to my afternoon coffee break. I made them as directed, except that I added some vegan chocolate chips. I was glad I did because the chocolate flavor of the biscotti itself was not very intense. My dough came out rather dry and difficult to shape. Next time I might add a little soy milk. Made for Veg*an Swap, March 2010. PS: I used this method to pop the popcorn: Recipe #71499
236.59

ml egg substitute (or 4 eggs)

7.39

ml vanilla

236.59

ml sugar plus 3 tbsp. sugar, divided

709.77

ml air popped popcorn, ground in food processor (or blender)

532.32-591.47

ml flour

177.44

ml unsweetened cocoa powder

19.71

ml baking powder
Preheat oven to 300* F.
Line a baking sheet with foil and spray with cooking spray.
Combine egg substitute, vanilla, and 1 cup sugar in large bowl and mix well.
Add popcorn, flour, cocoa powder, and baking powder and mix well; dough will be stiff but continue mixing until all ingredients are well combined.
Sprinkle remaining sugar on work surface; divide dough into 3 equal pieces.
Roll dough into 8" x 4" by ½" logs and roll in sugar lightly on all sides.
Transfer logs to baking sheet, leaving a space between them.
Bake 25-30 minutes.
Remove from oven and allow "logs" to cool for 5 minutes.
Cut logs diagonally into ½ inch slices.
Arrange in a single layer on baking sheet.
Bake 10 minutes. Turn cookies over and bake 5-10 minutes longer until lightly browned and crisp on both sides.
Cool cookies and store in airtight container. Enjoy!