Alia55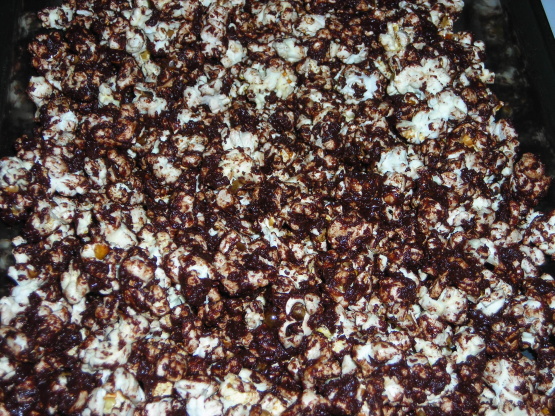 I'm not certain where I got this recipe from, but after making it, I did change the order of a few things as I ran into the same trouble as others. Once the recipe was altered a bit, it turned out much better.

This is one of those recipes where I had a preconceived idea of what I was making, and was so wrong! I ended up altering the recipe to a point where I can't really rate it with stars. I am still baffled as to how I can in step 6, cool to room temp, and then in 7, stir till creamy. Once my chocolate was at a soft ball stage and starts to cool, it hardens.....there is no stirring until creamy once it starts to harden.
Melt chocolate in pan.
Add sugar, milk, water and butter.
Add salt to taste.
Boil to soft ball stage and remove from heat.
Stir until creamy.
Add vanilla and popped popcorn.
Pour into buttered shallow pan.
Cool to room temperature.
Cut into squares when set.