TinTN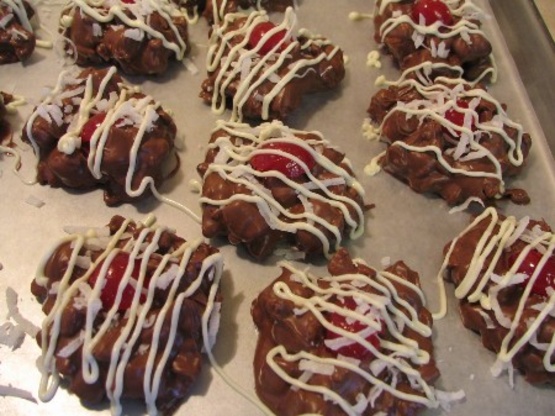 Chocolate lovers beware. Cooking time is chilling time.

Top Review by TinTN
I make chocolate pizzas every year at Christmas. It's one of my daughter's favorites. I decieded to give this recipe a try this year because I couldn't find my original. This was fantastic. The only changes I made were to use pecans rather than walnuts and to make mini pizzas by dropping spoonfuls onto a waxed paper lined cookie sheet. They were so yummy and pretty too!
In a microwave-safe bowl, combine 2 1/2 cups vanilla chips and the chocolate chips.
Microwave on high for 2 minutes; stir.
Microwave for 1-2 minutes; stir until smooth.
Immediately add marshmallows, cereal and walnuts; mix well.
Spread evenly on an 13-in.
pizza pan that has been coated with nonstick cooking spray.
Arrange cherries on top; sprinkle with coconut.
Microwave the remaining vanilla chips on high for 1 minute.
Add oil and stir until smooth.
Drizzle over pizza.
Chill until firm.
Serve at room temperature.