Prep 10 mins
Cook 30 mins
Chocolate and pizza mmm. Recipe from Giada.
Make and share this Chocolate Pizza recipe from Food.com.
1 lb homemade pizza dough or 1 lb purchased pizza dough
2 teaspoons butter, melted
1⁄4 cup chocolate hazelnut spread (Nutella recommended)
1⁄2 cup semi-sweet chocolate chips
2 tablespoons milk chocolate chips
2 tablespoons white chocolate chips
2 tablespoons chopped hazelnuts, toasted
Directions
Position the oven rack on the bottom of the oven and preheat to 450°F.
Line a heavy large baking sheet with parchment paper.
Roll out the dough to a 9-inch-diameter round.
Transfer the dough to the prepared baking sheet.
Using your fingers, make indentations all over the dough.
Brush the dough with butter, then bake until the crust is crisp and pale golden brown, about 20 minutes.
Immediately spread the chocolate-hazelnut spread over the pizza then sprinkle all the chocolate chips over.
Bake just until the chocolate begins to melt, about 1 minute.
Sprinkle the hazelnuts over the pizza.
Cut into wedges and serve.
Reviews
Most Helpful
I'm not rating this as I have not yet tried it! But as I read the recipe and reviews I just thought, you need to use a brownie mix for the pizza crust! It would be extreme chocolate, but would taste better than plain dough! You could even use refrigerated cookie dough!
Made this for a snack for the kids' sleepover this weekend, and it went over great! I used chopped roasted peanuts instead of the hazelnuts, because we had lots of them on hand, and also used peanut butter chips instead of the white chocolate chips. The boys asked to have this again the next time they stay over! Probably won't give it to them so close to bedtime next time though, LOL. Thanks for sharing!

Wowee! This took me to my happy place! I made it using One Pound Pizza Dough Abm (Or 1 1/2 Pounds), which makes a perfect 1 pound pizza dough -- in your bread machine! I was tempted to sweeten the dough a bit, but resisted, and I'm soooo glad I did because the pizza dough was like the straight guy balancing the sweetness of the chocolates and Nutella. I thought this would only be good served warm; wrong again! Once sliced, these were even better at room temp! I think these could be renamed to "Chocolate Pizza Cookies"!!!!! Thanks, Boommette! Made for PRMR.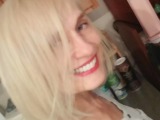 Everyday Party Ideas >