Chocolate Peppermint Slice
Chickee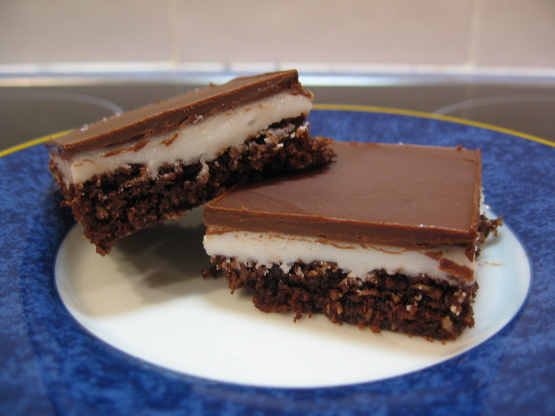 This is from the Family Circle's Complete Muffins Cookies and Cakes cookbook.

I love this recipe (have the book but needed to find the recipe online). I adore the choc-mint mix but my boyfriend doesn't, so an alternative is to use orange essence and a little red + yellow food colouring in the filling to make a choc-orange slice. The colour just makes it better somehow.
Preheat the oven to 180C (350F). Lihtly grease a shallow tin 18 x 28cm (7 x 11 inches) and line with baking paper, leaving the paper hanging over two sides (to make it easier to remove later).
Sift the flour and the cocoa into a bowl. Stir in the coconut and sugar, then add the butter and egg and mix well.
Press the mix firmly into the tin, bake for 15 minutes, then press down with the back of a spoon and leave to cool.
For the peppermint filling, sift the icing sugar into a bowl. Stir in the copha, milk and essence. Spread over base and refrigerate for 5-10 minutes until firm.
For the chocolate topping, put the chocolate and copha in a heatproof bowl. Melt over simmering water (making sure water does not touch the bowl). Spread mixture evenly over the filling, refrigerate for 20 minutes or until firm.
Carefully lift the slice from the tin, using paper as handles. Cut into pieces with a warm knife to give clean edges. Store in an airtight container in the refrigerator.