Chocolate-Peanut Crisp Bars
Pam-I-Am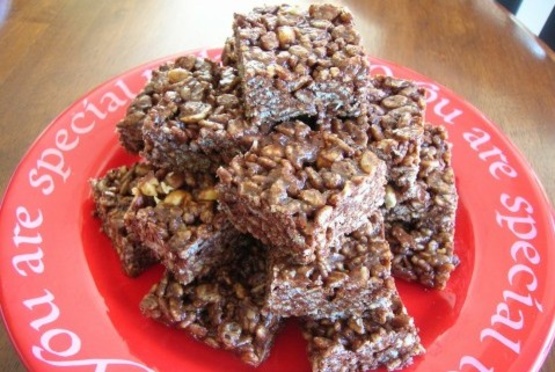 Whenever I take an assortment of cookies and bars anywhere, these are always the first thing to disappear. 'Nuff said. (But I will just add - cut them small, they are rich!)

These are SINFULLY DELICIOUS LITTLE TEMPTATIONS that are haunting my waistline!LOL;) Well, these are absolutely yummy and made a great treat for my Halloween party today. Instead of making them into bars, I shaped them into bats and turtles to give a more Halloween look. The kids I made them for were absolutely delighted! Thank you so much for sharing and for making their day very special!
Melt the peanut butter and honey in a very large pot, stirring frequently.
When hot through, remove from the heat.
Stir in the chocolate chips until they melt.
Add the vanilla.
Stir in the peanuts and rice crisps.
Press into an oiled 9"x 13" inch pan.
Chill and cut into squares.