Chocolate Peanut Chewy Bars
fawn512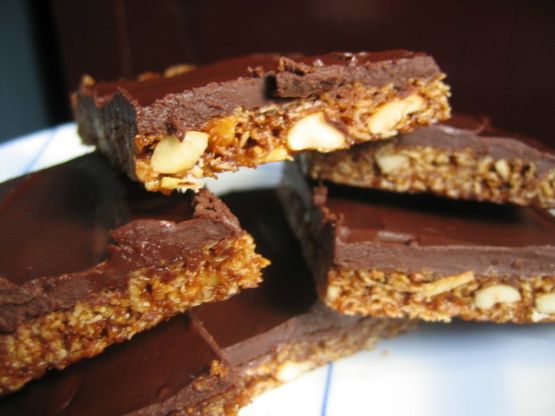 This makes a ton of "almost" Almond Roca-like bars, and there are no eggs in these. These are SO good, you won't be able to stop just at one bar LOL!

Top Review by Debbb
I am so sorry I made these bars!! My hubby & I ate the ENTIRE pan over the course of a weekend - I'm so ashamed - but they tasted so amazing! I only had 1 1/2 cups of oatmeal so I used that and increased the graham crumbs to 1 1/2 cups. I loved the sweet & salty together. I didn't bother chopping the peanuts so this recipe was very easy & quick to prepare. I'm sure these will be on my Christmas trays next year.
Set oven to 350°F.
Grease a 15 x 10-inch baking sheet (can use a 13 x 9-inch pan also).
In a large bowl, combine the oats, graham cracker crumbs, brown sugar, baking soda and peanuts; mix well until combined.
In another bowl, combine corn syrup with melted butter and vanilla; mix well and add to the oat mixture; mix to combine.
Press into prepared baking sheet/pan.
Bake for 15 minutes (don't over bake!).
Melt the chocolate chips with peanut butter in the microwave or double boiler until smooth.
Spread on warm bars.
Refrigerate to slightly set the chocolate (this makes for easier and more even slicing).
Remove from fridge and slice into small bars.