Chocolate-Peanut Butter Truffles
skat5762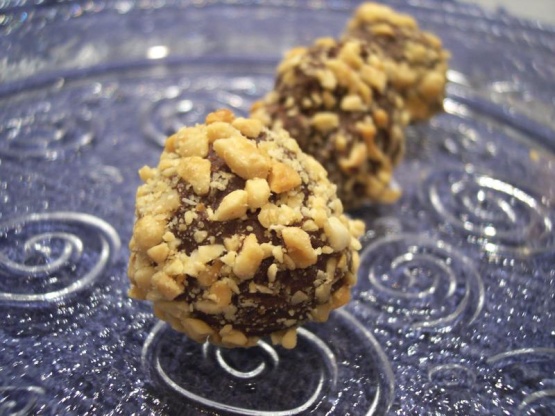 Peanut Butter and Chocolate are just 2 of my taste addictions. These truffles are fantastic, better than the peanut butter cups I used to devour while I was growing up.

These were easy to make and I even did the melting slowly in the microwave. I will warn that I used a higher quality darker chocolate and it wasn't very good. Next year we will do them with milk or semi-sweet. We had to let the ganache come back to a slower room temp to roll as it was hard as a rock after chilling 24 hours.
In a large saucepan combine the chocolate, cream, butter and peanut butter and heat over moderate heat, stirring, until chocolate is completely melted.
Remove from heat and stir in vanilla and a pinch of salt.
Transfer to a bowl and chill for 4 hours, or until firm.
Form mixture by heaping teaspoons into balls and roll lightly in peanuts.
Chill on a baking sheet lined with wax paper for 1 hour, or until firm.
Keep in an airtight container, chilled, for up to 2 weeks.