Chocolate Peanut Butter Truffles
Pixie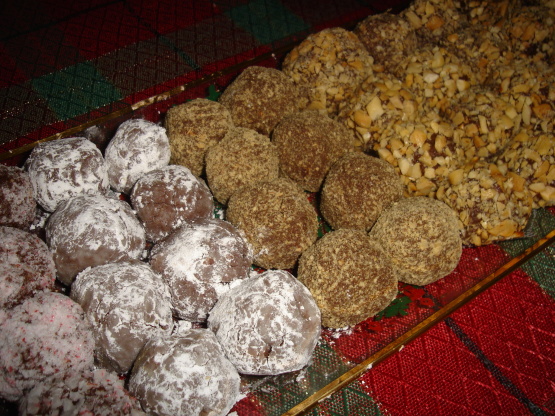 The ULTIMATE combination of chocolate and peanut butter! Elegant and Easy! Adapted from a Baker's Chocolate pamphlet recipe. Prep time does not include chilling time.

I wasn't sure about this combination, but it worked up really well and they were delicious! Make sure the nuts are very finely chopped...almost nut dust...if you like a smooth, rich truffle. With all my truffles I use a 1 TBLS. scoop and lay them out on waxed paper, then refridgerate them. When firm, I lightly roll them into a 'perfect' ball shape, then roll them in coating. It cuts down on refrigerator time. Again, these were really good and I would make again.
1

(8 ounce) package semisweet baking chocolate
1⁄2 cup peanut butter

1

(8 ounce) container whipped topping, thawed

suggested coatings

finely chopped nuts
multi-colored candy sprinkles
chocolate sprinkles or vanilla candy sprinkles
cookie crumbs
In a large, microwave-safe bowl, microwave the chocolate squares on high power for 1 minute.
Stir chocolate and microwave for another minute or until chocolate is melted.
Remove bowl from the microwave and mix in peanut butter until smooth.
Let the mixture sit until it has cooled to room temperature.
Mix in whipped topping and refrigerate for about an hour.
Shape the mixture into one inch balls.
Using a melon baller or teaspoon may make this easier.
Roll the balls in your choice of coatings.
This part is the most fun!
Be creative!
Store the balls in the refrigerator until serving or gift-giving time.
These would make a nice gift if you placed the balls in paper candy holders and wrapped them up in a decorated tin or plastic container.