Chocolate Peanut Butter Torte
Ecooker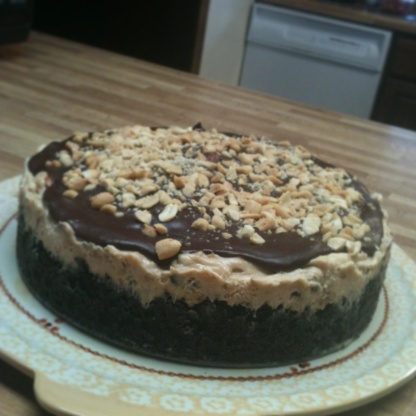 adapted from Annies-Eats.com. prep and cook times do NOT include refrigeration time, plan ahead for this one!
for the crust: combine cookie crumbs, butter and salt until all mixed. press into the bottom and sides of a well greased 9 in springform pan. freeze10 minutes, then bake at 350 for 10 minutes. cool completely before filling.
for the crunch: chop peanuts and mix 1 cup with the rest of the ingredients for crunch, set aside. reserve other 1/4 cup for sprinkling on at the end.
for filling: beat chilled cream until soft peaks form, add 1/4 cup powdered sugar and beat until medium stiff peaks form.
wipe out bowl (dont wash) and beat cream cheese with 1 cup powdered sugar until totally smooth.
add peanut butter and milk, beat until smooth and combined- scraping down sides.
fold in 1/4 of the whipped cream to lighten and stir in the crunch mixture (still leaving the 1/4 cup peanuts out).
fold in the remaining whipped cream with a spatula until combined.
scoop into the pan and gently smooth, refrigerate 1 hour then cover with plastic wrap for 6-24 hours.
topping: heat cream to boiling. pour over chopped chocolate, let sit 1 minute and whisk until smooth. spread over the filling and sprinkle with the remaining 1/4 cup peanuts and refrigerate at least 20 minutes to set.
cut, serve, enjoy!