Chocolate Peanut Butter Kiss Caffe
Annacia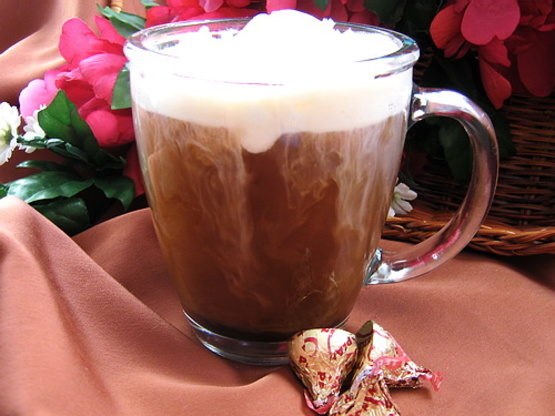 I was playing with coffee flavors and this one was a great surprise treat. Who knew that coffee and peanut butter would pair so nicely! Put a spoon in the cup and stir from time to time as you sip. The flavor will just keep getting better.

I forgot to review this, yummy! i used president choice peanut butter melts for this and it was soo good
2

hershey's peanut butter kisses (use 1 if you want to start slowly or have a small cup)

8 -12

ounces fresh brewed hot coffee (depending on the size of your cup)
sugar, if desired (optional)
whipped cream (optional)
chocolate syrup (optional)

1

hershy's peanut butter kiss, grated (optional, you won't need a whole kiss for one drink) (optional)
Unwrap the kisses, or kiss, and place in bottom of your cup.
Pour the hot coffee over the candy.
Put a spoon in the cup and top with any or all of the optional toppings.
*TIP: I always keep my chocolate in the freezer and a kiss will grate nicely right from the freezer.