Chocolate Peanut Butter Fudgy Squares
MA HIKER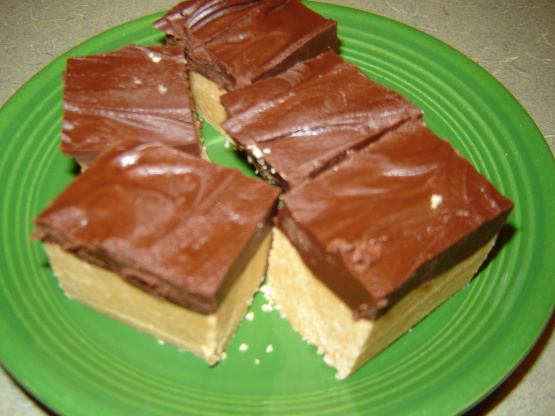 My mom used to make these when I was a kid. They're kind of like a peanut butter fudge with chocolate on top, and so rich you can only eat a tiny bit, which is probably a good thing, because these cannot be healthy.

These were great!!! I added 1 tsp vanilla to the peanut butter and 2 teaspoons of heavy cream to the chocolate. Worked great, but I think next time I'll use milk chocolate as I am not a dark chocolate fan. My whole family enjoyed these. Thanks again.
Melt one stick of butter and mix with peanut butter and brown sugar.
Stir in powdered sugar. (yep, the whole box) You may have to use your hands to get it incorporated.
Spread into an 8x8 baking dish and refrigerate.
Melt second stick of butter, add chocolate chips and stir until melted.
Pour chocolate on top of peanut butter.
Let them firm up in the fridge for an hour or two before you slice them.