Chocolate-Peanut Butter Cookie Pie
Prep 20 mins
Cook 18 mins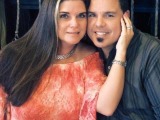 If you like chocolate and peanut butter, you will probably like this recipe. It is kind of like a Reeses, except our family thinks it is better because of the powdered sugar/peanut butter mixture and the cookie on the bottom. This dessert doesn't last very long at our house! The recipe was on the cover of the 1998 Pillsbury Quick and Easy Bake-Off.
Directions
Heat oven to 350 degrees.
Remove cookie dough from wrapper.
With floured fingers, prss dough in bottom of ungreased 10 or 9 inch springform pan.
Bake cookie dough at 350 degrees for 14 to 18 minutes or until golden brown.
Cool baked cookie for 15 minutes.
In medium bowl, combine powdered sugar, peanut butter, butter and water; mix well.
(If necessary, add additional water 1 t. at a time until mixture is smooth.) Drop spoonfuls of mixture over baked cookie crust; press evenly over crust.
Spread melted chocolate chips over peanut butter mixture.
If desired, swirl chocolate with a fork.
Garnish with pecan halves.
Refrigerate 1 hour or until chocolate is set.
Most Helpful
Very good, but very sweet! Next time I might cut down on the peanut butter filling.
Made this for a potluck at work. I am glad I got a piece because there wasn't any left over to take home. I left off the pecans and just topped it with a few decorative sprinkles to dress it up a bit. It was a big hit! Thanks!
Wow wow wow!! This is awesome and way too easy! I made 1 and 1/2 times the filling for more peanut buttery taste and didn't use the pecans on top. So good and sooo delicious. Thanks for the recipe!