Chocolate Peanut Butter Cheesecake Bars
chia2160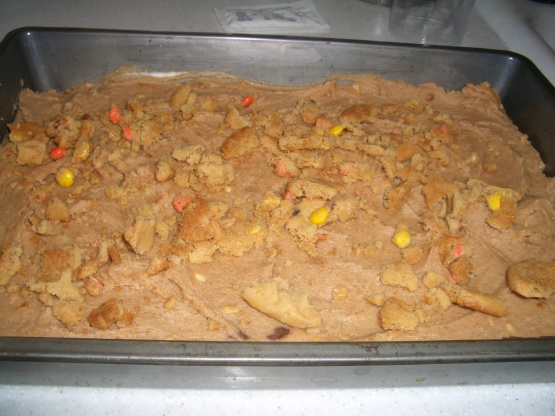 How easy it would be for me to sit down and eat the whole pan...but alas, I must think of others! How could you go wrong with these three? You're sure to get raves with this recipe and it's sooo easy.

These are quick, easy, and delicious! The chocolate layer sneaks up on you. They are very rich, so they will go far! The kids are in love with these! Thank you for posting!
Preheat the to 350°F and prep a 13x9-inch pan with cooking spray (bottom only).
Prepare 6 1-inch balls of dough and flatten on a cookie sheet.
Press the rest of the cookie dough in the 9x13 pan. Bake the cookies and the crust for 10 minutes or until the cookies are just done. Cool both. Set the cookies aside.
In small bowl, melt the chocolate chips and butter uncovered in the microwave on medium-high heat, stirring every 15 seconds until the chocolate is melted and combined with the butter. Spread on the crust. Refrigerate at least 30 minutes or until firm.
Beat cream cheese, peanut butter, powdered sugar and cream until blended. Then, beat on high speed about 2 minutes or until light and fluffy. Spread over the chocolate layer.
Crumble the reserved cookies coarsely. Sprinkle over the cream cheese layer and sort-of lightly press them into the cheese. Refrigerate another 30 minutes. Store in the refrigerator.