Chocolate Peanut Butter Candy
KadesMom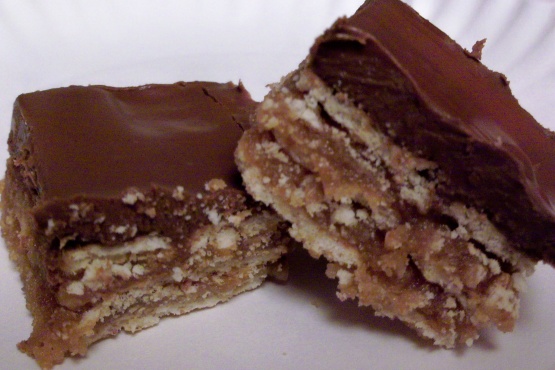 This is incredibly easy and oh-so-sinful! Made with graham cracker crumbs, butter-flavored crackers (ritz, etc), peanut butter, chocolate chips, butterscotch chips and more. SOOOO good and NO-BAKE. I cut the recipe in half sometimes and make it in an 8x8.
In a saucepan, combine graham cracker crumbs, sugars, butter & milk.
Bring to a low boil, stirring constantly; cook and stir 5 minutes longer.
Place single layer of crackers in a greased 13-in.x 9-in. dish; top with half of crumb mixture.
Repeat layers.
Top with remaining crackers.
In a small saucepan, combine the butterscotch chips, chocolate chips and peanut butter.
Cook on low and stir until smooth.
Pour over crackers.
Let stand until set.