Chocolate Peanut-Butter-Butterscotch Cookies
flower7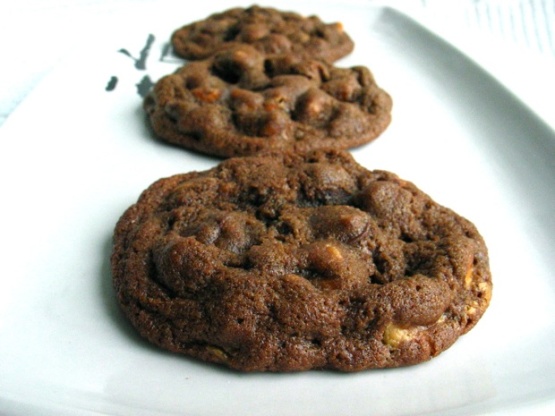 Rich chocolate cookies with peanut butter AND butterscotch chips.

OMG These are sooooooooo good. I couldn't resist using all three chips and I think it affected the yield a bit as I ended up with 48 cookies - but I'm not about to complain! LOL I baked on parchment paper for 10 minutes and they were perfect. Thanks so much for sharing!
Preheat oven to 375.
Cream butter, brown sugar, sugar, egg and vanilla.
Combine flour, cocoa, soda, and salt then add to creamed mixture. Stir in chips (it will be really bumpy if you do all three kinds of chips).
Drop in tablespoons onto greased cookie sheet. Bake 8-10 minutes.