JAG0913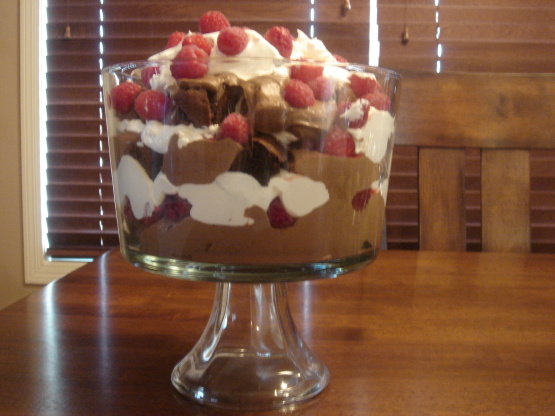 This recipe is from "Family Circle" or "Woman's Day" magazine, 2005. It would be a very romantic dessert to share with some that you love. Excellent!

Delicious and easy. Couldn't find french vanilla whipped cream so i added a little vanilla extract. Also think ahead for the whipped cream. Everywhere i went it was frozen and it says to thaw for like 4 hrs. Found this same recipe on the kraftfoods site. They even have a video showing how to make it. http://www.kraftfoods.com/kf/cookingschool/videos/videoplayer.htm?vid=342
Pour milk into large bowl. Add dry pudding mixes. Beat with wire whisk until well blended. Gently stir in 1 cup of the whipped topping.
Place half of the brownie cubes in 2-quart serving bowl; top with half of the pudding mixture, half of the raspberries, and half of the remaining whipped topping. Repeat all layers.
Refrigerate at least 1 hour or until ready to serve.