Bizzyble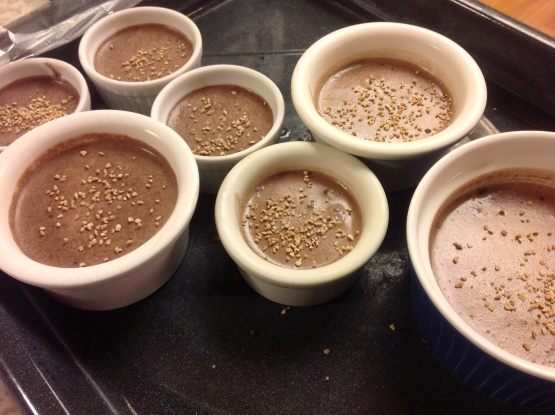 This comes from IGA's list of recipes. To vary the flavour you can replace the chocolate with 2 teaspoons instant coffee or 1 teaspoon finely grated orange or lemon peel. Cook time does not include refrigeration time.

I have tried two other panna cotta recipes before this (one for green tea and the other for lemon) and this recipe was the best. I replaced the 1/4C grated dark chocolate w/ 1/4C unsweetened cocoa powder and I added 1t of pure vanilla extract. It came out beautifully and my family finished the entire batch in no time. This is one of the easiest desserts anyone can make and involves very little preparation time.
Sprinkle gelatine in milk snd allow to soften for ten minutes.
Heat cream with sugar. Add chocolate and stir until it is dissolved.
Remove from stove add softened gelatine and stir.
Por mixture into coffee cups and place in fridge for 2 hours to set.