Bev I Am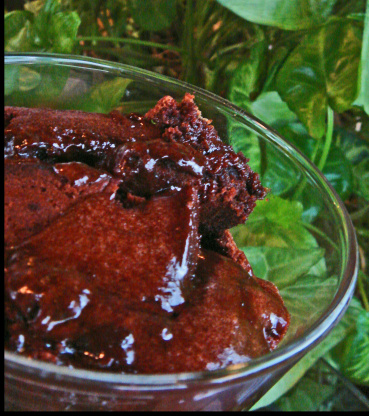 Name was chosen by group of friends I once served this to. You should have heard the sounds at the table! Baking time has been fine-tuned to take different reviews into consideration.

This did not turn out at all like I expected... I'd had in mind the molten, restaurant-style chocolate cakes that you see everywhere these days. I made this for a post Valentine's dessert for some close friends. When I finally went to cut it, I was extremely disturbed to see that the cake was not only loose and molten, but actuallly liquidy! I freaked out... pulling some oven-proof ramekins from the cupboard, I used a soup ladle to fill each bowl full of the chocolate mixture (there was a cakiness barely around the edges). I placed them into a full-blast oven for about 5-10 additional minutes. Finally, the guests could wait no longer, and I served each bowl with a dollop of vanilla bean ice cream. The very top of these had a slight crust, while the interior was much like- well, soup. But a beautiful, rich, chocolate soup. I said, "oh well," brought these out to my guests and said, 'here is what you have been waiting for- Schokolade Soup!" I am not sure what the correct texture should have been, although I know my oven is calibrated correctly- but these were wonderful! I know this because all conversation immediately ceased, and one could only hear the sound of the dessert being sucked down. A good omen, indeed. This was wonderful, even if it did not turn out quite as I thought it would. Flavour alone shoots this to five stars. Thank you, for a most sinfully delicious VD dessert. :)
10

ounces butter

1

cup sugar

4

eggs

1

lb good-quality chocolate, melted (I use a Greek brand, mixing 1/2 lb milk chocolate with 1/2 lb bitter not unsweetened)

2

tablespoons liquor (I have tried many but especially like cognac, brandy and amaretto) or 2 tablespoons liqueur (I have tried many but especially like cognac, brandy and amaretto)

1

cup all-purpose flour
1 1⁄2 teaspoons baking powder
lightly whipped cream (unsweetened or just barely sweetened) or 1 scoop of softened vanilla ice cream
Preheat oven to 400 degrees F.
Have rack in bottom third of oven.
Generously butter a springform pan.
Beat butter with sugar for about 4-5 minutes with electric mixer.
Add eggs, alternately with flour, baking powder, chocolate and liquor and continue to beat until all ingredients are incorporated.
Pour into springform pan.
Bake 10 minutes, turn off heat, and leave in turned-off oven another 15 minutes.
Remove and let stand about 10-15 minutes before serving.
I cut into this with a serrated spatula.
It will be cakey-crusty outside and molten, rich chocolatey goo in the middle.
I serve with very lightly whipped cream (unsweetened or just barely sweetened) or a scoop of softened vanilla ice cream on the side.
I have often made this several hours ahead of baking (which should be done close to eating time) and popped it in the fridge and then popped it into the preheated oven, increasing baking time by 5 minutes- it worked great!