Chocolate & Orange Marble Cake
Coasty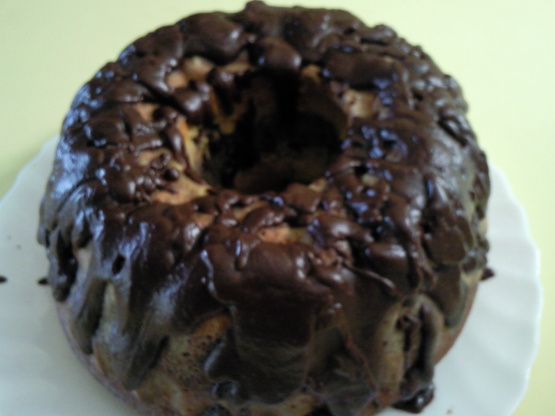 First cake I ever learned to make was a marble cake. It was for my Brownie Troops Cookbook. I remember being very proud because I had taken 3rd place with my mom's recipe. I hope you will enjoy this modern version. We like our chocolate cake to be on the sweet side, I have changed the measurement you may use less sugar, if you prefer.

Top Review by Coasty
This is a nice variation on chocolate cake it has a good dense crumb without being heavy. I followed the recipe exactly but we all found it a bit too sweet and although it smelt wonderfully of orange we couldn't taste any orange in the cake. Like most chocolate cakes this improves if left to sit a day or 2 before eating. I will make it again adding some orange oil to the mix and reducing the sugar. I made this for Aus/NZ Recipe Swap #39
Preheat oven to 350 degrees.
Grease a deep 9-inch tube pan and dust with flour, put aside until needed.
In a large bowl, cream together the butter and sugar until light and fluffy.
Next beat in the eggs, one at a time then add vanilla.
Sift together the flour, baking powder and salt.
Add the flour mixture to the butter mixture, alternating with the milk, making 3 additions of dry and 2 of the milk.
Put half the batter in a smaller bowl and stir in the melted chocolate chips and cocoa. Mix well.
Stir the orange rind and liquer into the remaining batter.
Pour half the orange batter into the a prepared tube pan.
Then in a random fashion spoon the chocolate batter overtop of the orange batter and finish with the rest of the orange batter.
Swirl a knife, through the batter to create marble effect.
Bake in 350°F oven for about 1 hour check and see if cake is done, if not keep in until a skewer inserted in centre of cake comes out clean, shouldn't take longer than 1 to 1 1/4 hours.
Let cool in pan for 10 minutes, then turn out onto wire rack to cool.
When ready to serve dust with a little icing sugar.