Chocolate-Orange-Chocolate Chip Cookies
sszz907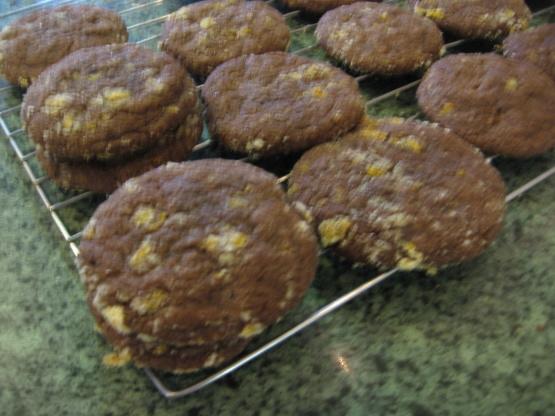 These cookies are super-packed with intense flavors.

These are pleasntly different, with a nice, subtle orange flavor. Plus, they bake so well--chewy with a crusty outside. For fat I used 7 tbs. of butter and 3 tbs. of olive oil to cut down on saturated fat with no difference in the flavor whatsoever. These cookies didn't last 2 days.
Heat oven to 350º.
Beat 1 cup sugar, butter, 1 tablespoon grated orange peel and the egg in large bowl with electric mixer on medium speed, or mix with spoon.
Stir in flour, cocoa, salt, baking powder and baking soda.
Stir in pecans and chocolate morsels.
Shape dough into 1 1/2-inch balls.
Mix 1/3 cup sugar and 1 teaspoon grated orange peel.
Roll balls in sugar mixture.
Place about 3 inches apart on ungreased cookie sheet.
Flatten to about 1/2-inch thickness with bottom of glass.
Bake 9 to 11 minutes or until set.
Cool slightly; remove from cookie sheet.
Cool on wire rack.