Chocolate Orange Biscotti
DebS 2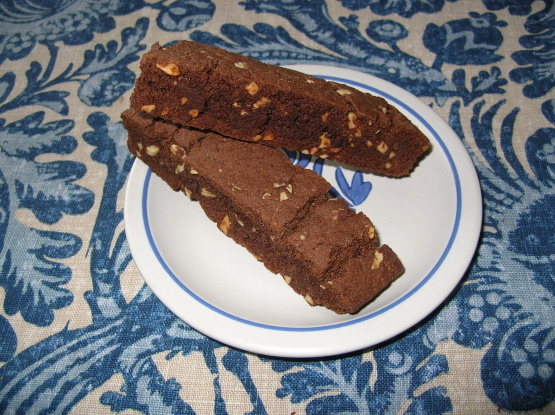 Easy way to make great tasting biscotti. No one will ever know you used a cake mix!

Top Review by DebS 2
I made this for the 3 Chefs game - the theme I used was "Simply Italian" and this recipe was truly simple to make! I never made biscotti before because I thought they sounded too tricky to make - but this recipe proved me wrong. These are very flavorful (I did use more orange zest) My DH - who is not a dessert lover - ate two of these! I used a baking stone rather than a cookie sheet and they turned out just right. I will make these again - just so I can impress my friends :)
1

box duncan hines devil's food cake mix (has to be a NON-PUDDING added mix like Duncan Hines)
1⁄2 cup butter, melted

2

eggs

1

cup flour
1⁄2 teaspoon orange extract

1

tablespoon of grated orange zest (more if you want)
1⁄2 cup of chopped almonds or 1⁄2 cup shaved almonds
Preheat oven to 350.
In large bowl, mix melted butter, cake mix, eggs, flour, orange extract, orange peel and almonds.
Mixture will be thick.
Mix it with hand mixer or hands until if forms a big ball.
Form the ball into a 14 x 4 rectangle.
Place rectangle in oven and bake for 30 minutes.
Remove rectangle and let cool for 10.
Slice cross-wise into 1 inch slices and lay slices on their sides.
Bake at 350 for 10 more minutes.
Turn off oven and let biscotti's sit for another 30 minutes.
Remove from oven and let cool.