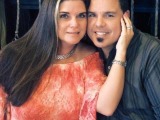 This is a wonderful treat for people who love the combination of chocolate and orange. It brings back wonderful memories of me cooking in the kitchen with my mom, when I was a little girl.
Directions
In a food processor, combine the vanilla wafers, 2 cups of the confectioner's sugar, cocoa powder, orange juice concentrate, and corn syrup.
Process until the cookies are ground to crumbs and mixture is evenly blended.
Add the pecan pieces and pulse process until the nuts are finely chopped.
Transfer the mixture to a bowl and form into 1" balls.
Roll balls in 1/4 cup confectioner's sugar** to coat.
Store in an airtight container in refrigerator for up to 1 month.
**We always rolled our balls in regular granulated sugar. If we made them at Christmas time, we dyed some of the sugar green and some of the sugar red and rolled 1/2 the balls in the green sugar and 1/2 the balls in the red sugar.
Most Helpful
Whoo-hoo-hoo, what a treat! I made these in about 5 minutes- the easiest part of my Christmas baking. I subbed agave nectar for corn syrup. They roll so perfectly and I think the prettiest balls are the ones I rolled in a mixture of red&green dyed sugar. This is a chocolaty, orangy keeper! Thanks so much!

I can't wait to share these with my mom as one of her favorite flavor combinations is orange and chocolate. I can't believe how easy this recipe is... no cooking necessary. At first you taste the chocolate and then a second later the orange hits. I think these will satisfy any chocolate craving you may have. I tried rolling in the powdered sugar but the granulated sugar was so much prettier. They sparkled!

These are one of my favorite cookies. They're fast, easy and delicous. I usually used walnuts instead of pecans and granulated sugar to roll them in. I'm going to be making these right when I get home from grocery shopping. Thanks!