Chocolate & Olive Oil Mousse
Jay3fer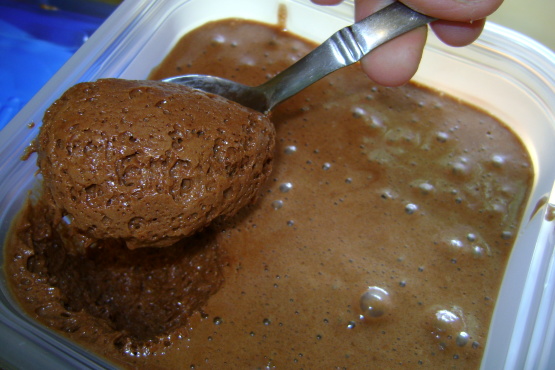 This delicious, easy, and pareve mousse recipe was printed in the "New York Times" (March 2007) and adapted from "Dulce lo Vivas: La Reposteria Sefardi," ("Live Sweet: the Sefardi Bakery") by Ana Bensadón. It can also be baked as a cake (at 350F for about 50 minutes). Mousse must be chilled for 24 hours.

I wouldn't have believed it! I was scared it would taste overwhelmingly like olive oil, but NO. Miraculously, it is a subtle undertaste, but way overwhelmed by the rich chocolatiness of this mousse. A fabulous way to avoid all that cottonseed oil at Passover and unhealthy margarine desserts year-round!!! ADDED April 2010: This is still an incredible family favourite, for Pesach and year-round. We even had it in a pie shell with whipped cream on top once. Also works okay to halve it if you don't need as much.
In a double boiler, melt chocolate over low heat. Cool slightly. Beat egg yolks with 1/2 cup sugar until light. Whisk in olive oil, brandy and melted chocolate.
Using an electric mixer, whisk egg whites until soft peaks form. Add remaining 1/4 cup sugar, whisking until stiff but not dry.
Fold whites into chocolate mixture so that no white streaks remain. Spoon into an 8- or 10-cup serving bowl or divide among 8 or 10 dessert cups or glasses. Cover with plastic wrap and refrigerate for 24 hours before serving.