Chocolate Oatmeal Brownies
Cindy W.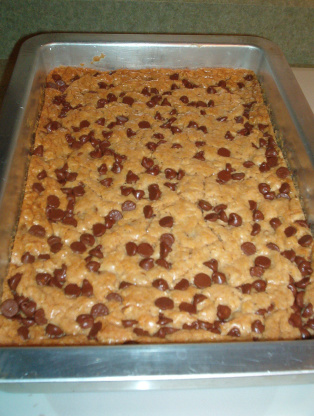 This is a recipe from my childhood. I think it was my older sister who found the recipe. These taste great with a tall glass of milk. Makes your house smell wonderful while baking too.

These were great! I too was expecting an oatmeal cookie taste, but these were so much better than that! So good!
Preheat oven to 350 degrees.
Beat butter, sugars, eggs and vanilla until light and fluffy.
Blend in flour, baking powder, salt, nutmeg and cinnamon.
Stir in oatmeal and 1 cup of the chocolate chips.
Spread into a 13 X 9 baking pan.
Sprinkle on remaining chocolate chips.
Bake for 30 minutes.