Geema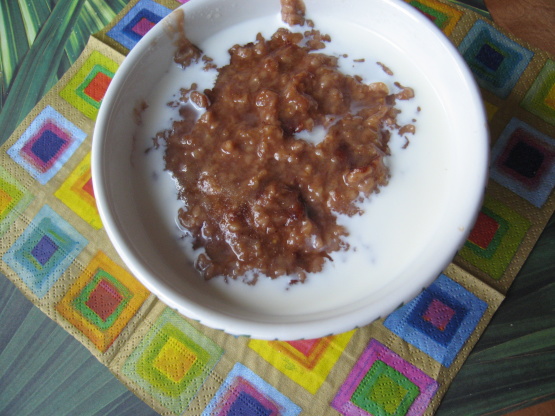 Yep...chocolate for breakfast. I created this recipe trying to get my grandkids to eat their oatmeal. Now it's my favorite way to fix this healthy start breakfast. I use my rice cooker to make oatmeal...fast and easy!

I made this in the microwave, scaled down to one serving. I used milk instead of water, omitted the blueberries and salt, and concocted my own "cocoa powder" using 1 tsp. cocoa and 2 tsp. sugar. (I would not recommend using straight cocoa in this recipe.) After tasting it, I added about a tablespoon more sugar. It was just a little bit more chocolatey than I'd like, being a milk chocolate person. So, next time, I'll try using 1/2 tsp. cocoa and 2 tsp. sugar. In the future, I am also considering tinkering with the addition of bananas OR just a little bit of orange juice, but not together.
Place all ingredients in rice cooker and turn on.
Serve with maple syrup, brown sugar or sweetner of your choice, along with some milk if desired.