Midge_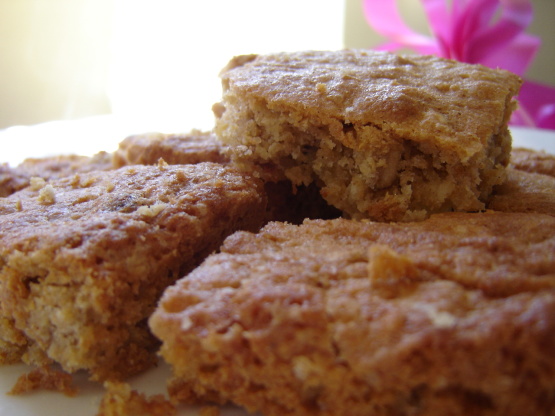 White chocolate chips with wholewheat flour and oats make a lovely chewy caramel-like bar. White flour could be used instead of wholewheat, and brown sugar substituted for the raw sugar.

I really want to give these 5 stars, because I love them! Unfortunately, my boyfriend wasn't a huge fan. Oatmeal desserts don't go over that well (yet...) in Germany. I thought they were delicious, but I don't want to make anything where I "have to" eat the whole thing by myself :) Maybe I'll make a half recipe next time. I used white chocolate chunks and added about 1/4 tsp salt. I baked them in a large pie plate and they turned out perfect! Thanks for the recipe.
Preheat oven to 180º C (350º F). Grease 11" X 7" pan.
Mix together everything except oats and chocolate.
Add in oats and chocolate.
Spread into pan. Bake for 20 minutes or until golden brown on top.
Cool before cutting into squares.