Chocolate Nut Butter Baked Apples (No Added Sugar)
Debbwl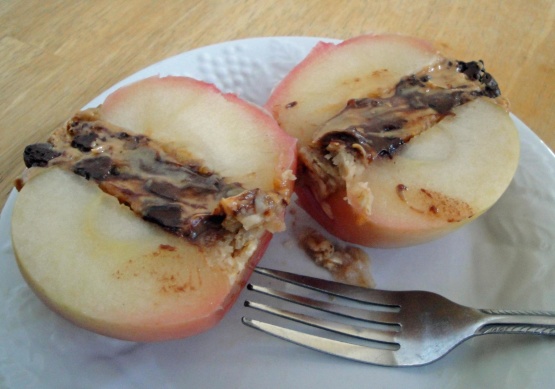 This is a very flexible recipe. These baked apples are stuffed with nut butter (have made with both almond butter and peanut butter) and chocolate chips. **The amounts below are estimates as the amount you will need will very with how big your apple is and how much you hallow it out.
Turn oven on to 355°F.
Wash and core apples using either a apple corer or a small pairing knife.
Stuff a few oats into the cored bottom of the apple, this will block the filling from draining out.
Stuff some nut butter into each apple; stuff in a few chocolate chips fallowed by some more nut butter and topping off with a few more chips.
Bake for 30 to 40 minutes, again this will depend on the size and type of apple you are using. They should be tender but still holding there shape.
Enjoy!