alligirl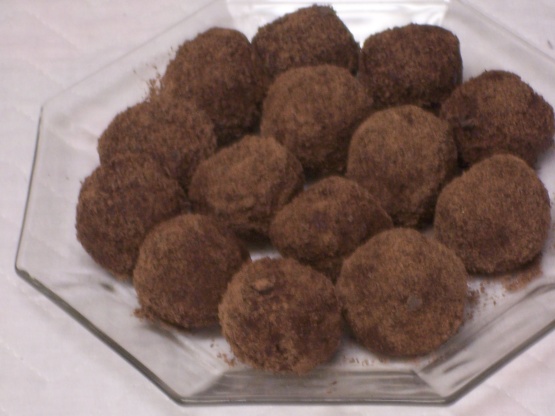 these tasty little balls are no bake, just melt, chill and roll...time for chilling is included in prep time.

These delectable little morsels are super easy; they can be made with little notice, from ingredients on hand, and be served as an elegant, rich dessert. I used walnuts and rolled them in an espresso flavored chocolate bar, as that is what I had on hand. I chilled the mixture for approximately 30 minutes, before rolling them, rolling in chocolate and returning to fridge. Thanks, *Pixie, for a wonderful recipe. I will be making these again~Made for Spring PAC '09.
12

ounces semi-sweet chocolate chips (REAL chocolate please)

1

cup chopped nuts (almonds, hazelnuts, walnuts, brazil nuts, pick your favourite)
3⁄4 cup sweetened condensed milk

1

teaspoon vanilla
1⁄8 teaspoon salt
chocolate sprinkles or finely grated chocolate, if preferred
In the top of a double boiler over hot (but not boiling) water, melt the chocolate chips.
Stir in nuts, condensed milk, vanilla and salt.
Mix well.
Cool the mixture until until you can work with it comfortably. If it is too soft, chill it in the refrigerator until it is workable. The temperature in your kitchen and the type of nut (and fineness of chopping) used can influence how much it needs to chill before being workable.
Butter hands and roll mixture into 1 inch balls.
Roll the balls in the chocolate sprinkles (or grated chocolate) and refrigerate.