jswinks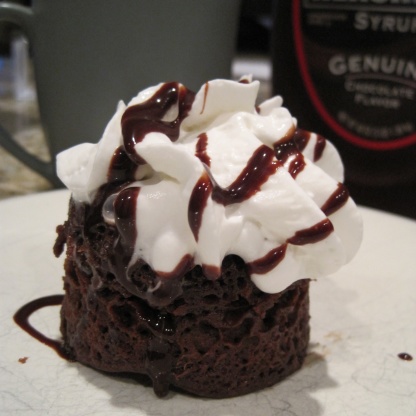 This recipe is wonderful when you need a little something sweet! You just whip it up in a large coffee mug.

Top Review by Andrea
I think those who say it is rubbery or overdone need to look at direction #5 very closely!! I reduced the power of my microwave to about 80% (I have a 1200 watt) and it turned out perfect! I was really needing a sweet fix tonight and this hit the spot. Hubby said he would prefer a little less cocoa next time, and I will eliminate the chocolate chips from mine next time. LOVE that this recipe is so customizable. Nuts or caramel chips could be added if you like and would probably be very good. Overall I think this is an amazing recipe and far beats the expensive grocery store individual desserts and I didn't have to go out in sub-zero temperatures and a foot of snow to get it!
Add dry ingredients to mug and mix well.
Add egg and mix well.
Pour in milk, oil, and mix well.
Add chocolate chips and vanilla and mix again.
Put mug in microwave for 3 minutes on 1000 watts.
The cake will rise over the top of mug, dont be alarmed.
Allow to cool a bit and tip it out of the mug or grab a spoon.